Hello
HandEngravedGuitar is an atelier of hand metal carving for all sort of guitars created in 2014 in Liège, Belgium. You can browse the 3 categories below for more details on the products, You can also contact me directly for a bespoken craft you dream of.
Product category
Last products
Control et neck plate pour Jazz Bass Gravure main, design original, datée signée.
More information
About the engraver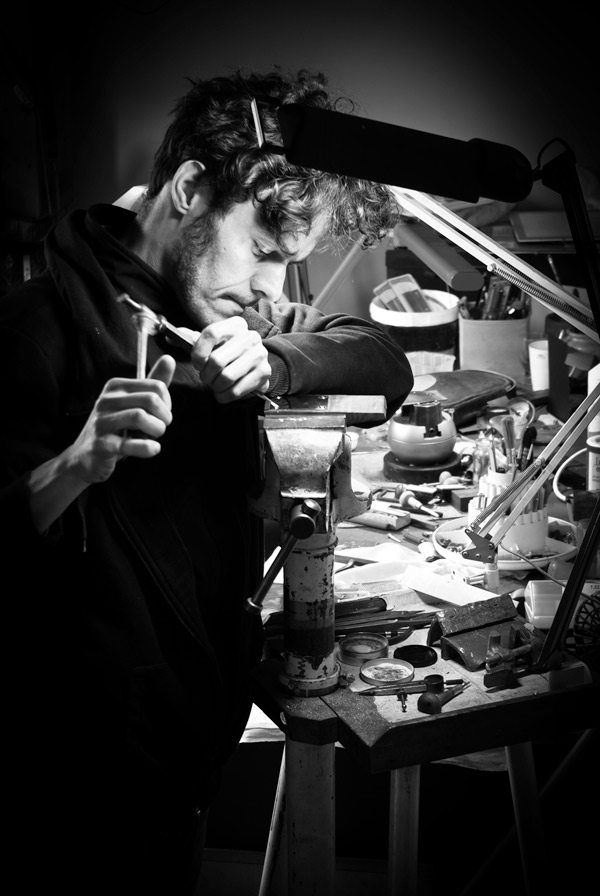 My name is Charles Perrin and I am the engraver behind HandEngravedGuitard.com.
Created in 2014 in Liege, Belgium, HandEngravedGuitar is an atelier dedicated to the carving of guitars pieces such as neck plate, pickguard, control plate, tuner, … or in fewer words, any metal parts.
Regardless of the type of guitar, your style or thinking school, your instrument can be marked and personalised. I work on pieces from Gibson, Fender, Gretsch, etc.
I am myself a musician and own several guitars. Between 2002 & 2005, I have studied in the renowned engraving school of Leon Mignon, Liege, Belgium. However at the time, it was only a passion and I would never have thought I could develop this hobby in a professional career. My plan was solely to work on my own guitars and to become a professional musician. A real rocker, be on the road, etc.
However, I had the great opportunity to move in New Orleans and meet a great master of engraving, Sam Alfano, his work is amazing, gorgeous, and he's a good banjo player too! He offered me the chance to be under his tutoring.
When I came back, it was clear that passion and professional activity could blend.
Of course I keep playing guitar. A lot. I keep buying guitars. A lot. But now I live from engraving and personalised guitars.
I work from home, where my atelier is. I share this very home with my wonderful wife Audrey and our incredible girl Lily-Jeanne. I could write words and words about them, but I don't want to lose you in the blah blah of a loved husband and father.
You can have an overview of my previous works by browsing the three main categories of the site:

- Pickguard
- Neckplate
- Other part (subtly named "miscellaneous")
You can also contact me via the form below. I would love to discuss your projects and ideas, please feel free to share them.
My work is also available on facebook & esty.
Charles Perrin, Liège, 2014.